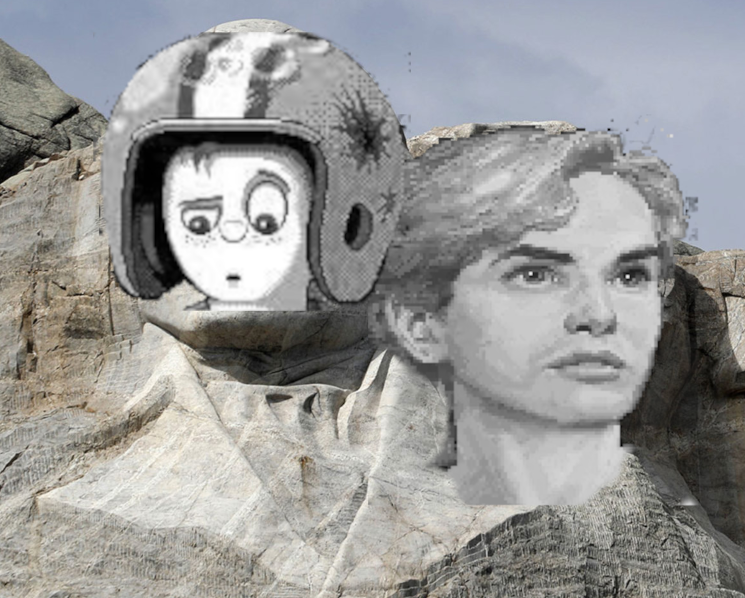 Oulah! On se calme tout de suite, les gars. Je vous vois déjà bondir sur le store, cartes visa dehors ... Il ne s'agit que de Keen Dreams, le poussin noir de la couvée. Le lost-levels 3.5 qui marque la transition entre le classique "invasion of the Vorticons" et le cultissime "Goodbye Galaxy".
Mais bon en promo à 2 euros, même si c'est le seul épisode pour lequel j'aie jamais dépenser un cent (bin oui, les épisodes 2,3,5,6 étaient introuvables dans mon rayon d'action et les épisodes 1 et 4 étaient redistribuables librement :-P), même s'il est affublé d'un scénario discutable, de graphismes meilleurs-mais-un-peu-à-l'arrache et d'un gameplay franchement perfectibles, je tente.
| | | |
| --- | --- | --- |
| | | |
| K1 : classique. | KD : meh. | K4 : cultissime |
Allez, je remets un petit comparatif pour ceux qui étaient ailleurs dans les années '90. La première trilogie, c'est un personnage de taille modeste dans un environnement aux graphismes minimalistes: à-plats de couleurs, perspective frontale, décor épouillé ... mais c'est le tout premier jeu de plate-formes à scrolling sur PC alors on se l'arrache.
La suite "Goodbye Galaxy" prend le pari d'une perspective pas-complètement-cavalière (influence de Prince of Persia ?), offre un personnage plus grand et des décors nettement plus riche. Elle amène aussi une musique de fond et des effets numérisés (K1 devait se contenter de bruitages au PC-Speaker. Oui, ça fait mal aux oreilles).
Au niveau du gameplay, passer de K1 à K4, c'est un peu comme passer de MegaMan à MegaMan X: de 2 directions de tir, on passe à 4. On ajoute des pentes, la possibilité de s'accrocher aux rebords des plate-formes et de monter/descendre à des barres de pompier. Le jeu gagne ainsi énormément en souplesse. On rajoute aussi un saut plus ou moins haut et qui réagit au millipoil. Le saut minimum couvre les 2 blocs au-dessus de Keen. Le saut maximum (sans pogo) en prend 3 de mieux. (Keen faisant lui-même 2 blocs de haut).
Si graphiquement, on pourrait pardonner à Keen Dreams d'être un cran en-dessous du niveau de K4, le fait qu'on ne sache pas encore s'accrocher au bord des plate-formes fait nettement plus mal. En introduisant une perspective ou le sol apparaît presqu'aussi large que le personnage n'est haut, on introduit aussi une incertitude sur notre capacité à atteindre une plate-forme donnée. Comme en plus on nous a retiré le pogo, ça donne un jeu où on va souvent rater ses sauts. De plus, si KD réagit aussi au millipoil, il n'a qu'une hauteur de saut (peu s'en faut) à l'instar du classique "Invasion of the Vorticon". On ira donc souvent se manger le plafond ou finir dans les pieds du monstre situé au-dessus de nous, sur une plate-forme jump-through.

La dernière grosse différence entre Dreams et le reste de la série, c'est qu'ici Keen n'a pas un pistolet, mais qu'il lance des pastilles-fleurs affectées par la gravité. Vu le nombre d'années depuis ma dernière partie de Keen "canoniques", on va dire que je devrais m'y faire. En revanche, leur effet est limité dans le temps. A l'époque, ça m'avait valu quelques morts évitables. Ici, ce sera l'occasion de voir ce que les joueurs de Bilou: Dream Land ressentiront. Verdict: des munitions limitées avec un effet temporaire = panne sèche assurée. On veillera donc à ce que Dreamland garde "munition consommée = effet permanent" tout comme SchoolRush.

Que dire de l'adaptation sur Switch, donc ? Eh bien, figurez-vous qu'ils nous ont ajouté des musiques. Si si. En gardant un style assez proche des sonorités adlib de l'époque (bien), mais assez moyennement inspirées sur les thèmes. On est plus dans l'ambiance de Keen 6 que de Goodbye Galaxy et ses thèmes inoubliables, selon moi. Il nous ont aussi rajouté des petites bulles de texte ça et là, avec des polices de caractères improbables ou des menus avec des icônes douteuses. Jugez plutôt! Mais sinon, à part le fait que les vies semblent illimitées, on est dans une adaptation assez fidèle du titre original (encore heureux, vu que les sources du jeu étaient disponibles sur Internet :P)