I could hardly point you to the old "wish-to-play-that-game" blog post about Konjak's "Iconoclast" game, because I've been post-poning writing that post since 2011, hence the "#veryOldDraft" tag.

From the very first notice on the tigsource blog, I've been in love with the pixel art used. I loved the gameplay as well, which I managed to get running through Wine on my old laptop ... but It wasn't comfortable to go much further than the first true boss.

But yesterday, I just noticed it was available on the Nintendo Switch, so this is my second indie download, and it's a marvel to experience the game at full frame rate with responsive and friendly controls. Plus, the switch has a "snapshot" button, and a separate galery mode, meaning that I'll be able to do pixel studies when I'm not playing it.
Bon, il y a 8 ans que j'aurais dû commencer cet article, parce qu'il y a 8 ans que Iconoclast de Konjak m'avait tapé dans l'oeil. Il y a même 8 ans presque que j'y ai joué pour la première fois, dans le salon de mes beaux-parents sur un portable Linux tournant laborieusement Wine. J'avais apprécié, mais l'expérience n'avais rien de comparable à avoir la chose au milieu de son D-PAD et calibré pour tourner à pleine puissance sur la Nintendo Switch. Je ne regrette pas l'attente et je ne regrette pas la dépense (vu que la version PC avait été gratuite :P)
La bande son
est de toute bonne qualité aussi (sans pousser jusqu'au niveau d'un Shantae ou d'un Fez quand même), et je suis assez surpris de constater qu'elle est signée également Konjak! "Pixel" avait fait de même dans "Cave Story", mais ça reste suffisament rare pour le mentionner.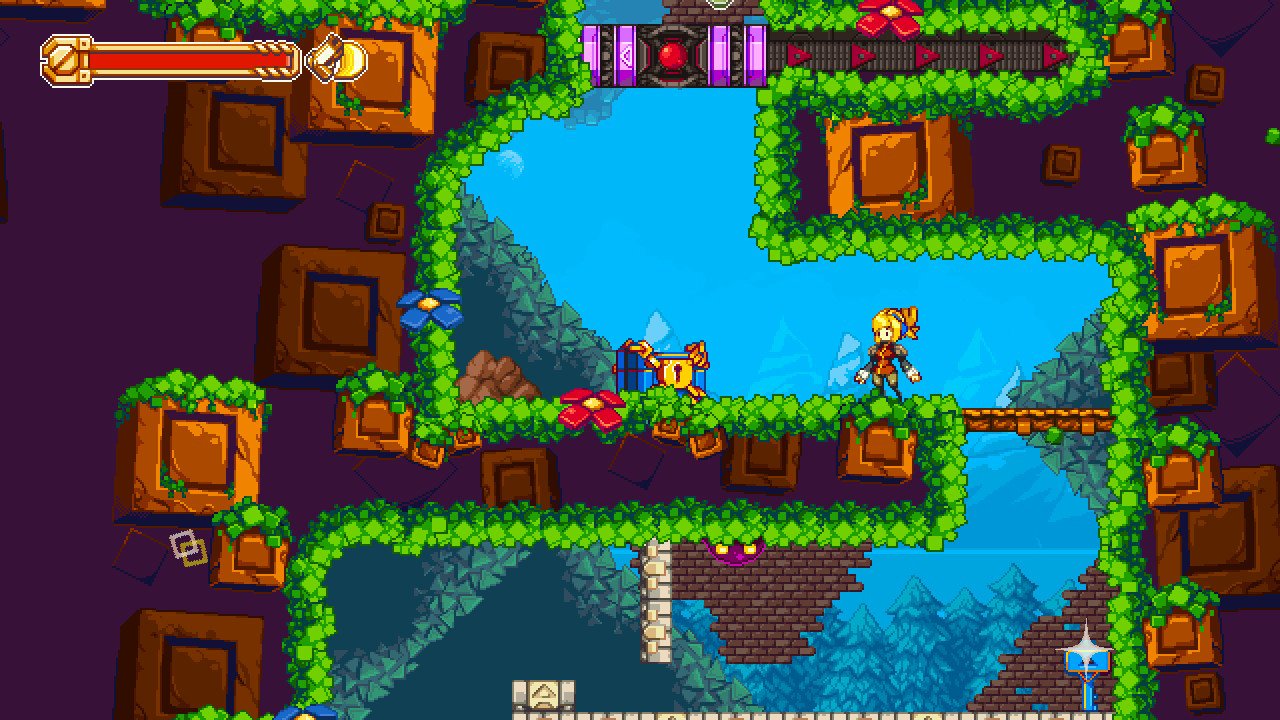 Bon, je vais quand-même faire une petite intro du jeu pour ceux qui le découvriraient ici: Robine est une jeu passionnée de mécanique. Elle n'hésite pas à donner un coup de clé à gauche ou à droite pour dépanner les gens de sa colonie. Elle se débrouille aussi assez bien avec un flingue, et ça va lui venir bien à point, parce que dans son monde, le carburant est considéré comme une manne divine et seuls les prêtres assermentés peuvent intervenir sur les équippements alimentés en carburant sans être pourchassés par les agents du Projet et "jugés" pour hérésie.
Je pourrais être tenté de dire qu'on est face à un métroïdvania, vu qu'on se déplace librement dans des niveaux un poil labyrinthique, qu'on débloque des mises à jour de ses armes pour continuer à progresser dans le jeu et qu'on dégomme tout ce qui bouge sauf si ça nous adresse la parole avant de nous charger. Mais ce serait une insulte de ne pas préciser la présence d'une forte composante RPG, étant donné la quantité de PNJ qui nous distillent leur connaissance du monde, de ses intrigues et des relations curieuses entre les différentes factions. De nouveau, c'est de Cave Story qu'on se rapproche le plus ici.
Encore que Konjak a veillé à choisir des mécaniques de combat qui permettent aussi des phases de puzzle entre les séquence de combat pur -- chose qui colle tout à fait au caractère du personnage, ce qui ne gâche rien.