Amusant, ce qu'on retrouve dans les fonds de tiroir ... voilà le fichier "readme" de mon premier jeu en Assembleur pour MS-DOS: Crazy Brix, qui (2 ans plus tard), remporta la compétion "100K games" à la Inscene'99 ... A défaut d'Internet, à cette époque, je tentais de voir mes jeux paraître sur le CD du magazine PC-Fun ... sans grand succès, malheureusement.

Well, I dug a README.TXT file for my first A86 game : Crazy Brix, as submitted to the French magazine Pc-Fun. It wouldn't make much sense to translate that to you, right ? it mostly has some nostalgic value. What I find amusing is how it built up : from a proof-of-concept QuickBas game (hardly playable, but conceptually correct), i retro-fitted the "algorithms" into my growing assembly-written .S3M player for the Sound Blaster Pro. Somehow, "importing" the S3M player into a fresh game project didn't work. Debugging such a program was a nightmare ...
I had no idea of the existence of GPL or free-software by that time (neither did I have any free software at hand, which more or less explain the use of assembly), so I was trying to trade my code against something else I could have a use for. Funny.


- - - 8< - - - 8< - - -
Salut à tous !
Bien le bonjour à vous, futurs joueurs de CrAzY BRIX.
Je me permets de me présenter: je suis Sylvain
( alias PYPEIN ), programmeur de BRIX. Vous allez sans tarder découvrir la version 1.9 du nouveau XAM-WARE de PPP TEAM SOFTWARE.
(XAM-WARE comme produit pendant les examens.)
Les Versions.
1.0: Développement de l'algorithme de jeu en BASIC ("appelle moi pour jouer",dit Vivien)
1.1: Première implémentation en Assembleur: MODPLAY+ chargement des images (ricanement de Piet)
1.2: Réalisation des routines graphiques
1.3: On peut commencer à jouer, mais c'est plein de bugs.
1.4: premiers essais de transparence ("C'est quoi, cette horreur?" dit Piet " C'était encore mieux en BASIC!")
1.5: décors de fond retravaillés
1.6: ajout des patterns "GAME OVER" et "NEXT LEVEL"
1.7: on peut changer la vitesse de la balle.
1.8: Ajout des samples pour les bruitages ("Je te laisse débugger, Pype, je reviens à 12h00")
1.9: image d'intro en POVRAY
1.A: "ajout d'animations"
Note aux programmeurs
Mon module player n'est pas encore au point, néanmoins, si l'un d'entre vous veut en faire un en assembleur, je lui conseille d'abord de lire 'Le SuperLivre de la SoundBlaster' paru chez Micro Application. Je peux aussi vous passer une partie des sources (les fonctions de la S.B.) mais ne me demandez pas les sources complètes du player: le code est pas encore optimisé (PENTIUM minimum). Je vous le passerai seulement contre d'autres trucs (un player pour un autre format, des truc de balaises sur le mode protégé, un jeu que vous avez fait et qui est mieux que le mien...)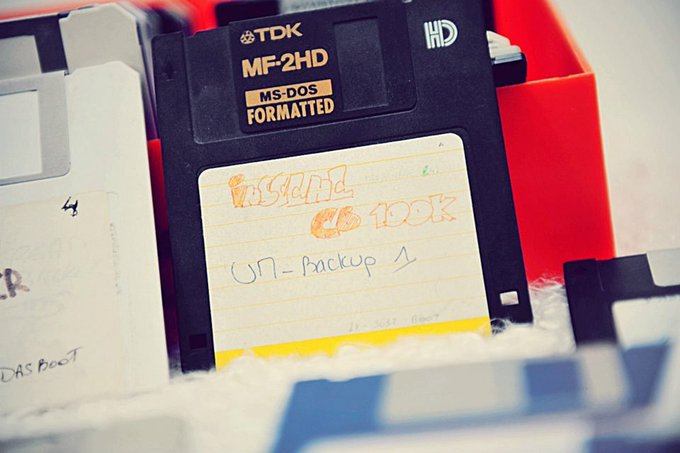 (tout ça, c'était avant que je ne découvre la GPL, NDLR)
PS
: d'une certaine manière, Crazy Brix reflète assez bien ce qu'était PPP Team : en apparence un projet solo, ce jeu n'aurait jamais vu le jour sans le bouquin de Nowan sur la soundblaster ni sans l'assembleur A86 de Parmy. Il n'aurait pas été fun sans les Bilou/Badman de Pierrick, ni sans le personnage "tentacle bob" de Tbob, ni sans les mods de mon frère. Il n'aurait pas gagné la 100k sans les routines de compression de Kris, ni sans la voiture de Gino. Il n'aurait pas eu de sens si Pierrick n'avait pas lâché à Romu "tu te rends compte qu'il a fait ça en 100% assembleur !?"
download and play in DosBOX